ACTION : Bibliobus (mobile library) programme
COUNTRY : Cambodia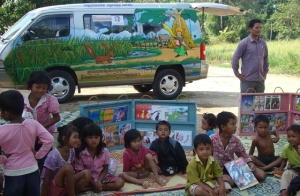 The fight against illiteracy, creation of libraries, publication of books in the Khmer language, training… For more than 15 years, the SIPAR (Privately-Initiated Support to Assist in the Reconstruction of Southeast Asian Countries) non-profit organisation has worked for the renaissance of education in Cambodia, where 45 % of the population is illiterate and 40 % is below 15 years old.
Following on from a programme launched in 2000, SIPAR asked the Foundation to finance a new bibliobus (its 8th one) to serve the districts and villages around Phnom Penh and Kendal. The bibliobus proposes literary activities and educational games to children with no access to education. Nearly 10,000 readers benefit from this service each month!
Watch the video on this activity :
For more information: