ACTION : Financing of educational, social and environmental projects in the provinces of Tarfaya in favour of youth.
COUNTRY : Morocco
The company Siemens has been taking part in the field of energy production in Morocco since 1956. At the same time, it sponsors projects in favour of the environment, education and science.
Within the framework of the installation of a wind turbine farm in Tarfaya (Cap Juby), entrusted to the company Siemens Morocco by the Moroccan government, the Antoine de Saint-Exupéry Youth Foundation signed a partnership agreement with Siemens in July 2013 with the aim of supporting local projects for youth over a 3-year period.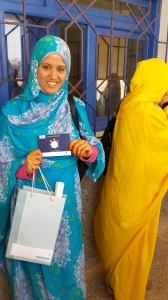 For the 2013-2014 period, the following 3 projects were selected:
–   In terms of education: Allocation of computer equipment to the Lycée Qualifiant (secondary school) of Tarfaya and donation of books;
–   In terms of health: Provision of medical equipment provided by the NGO Pharmacie Humanitaire Internationale (PHI 32) and allocation of high-tech equipment by Siemens Morocco;
–   In terms of sustainable development: Creation of an artificial dune, following environmental studies, near the city to prevent it from sanding over, thanks to the planting of young tamarix by the children of Tarfaya.

For further information: