The Antoine de Saint-Exupéry Youth Foundation participated to the 3rd edition of the air show organised by the Stars and Wings association at the Toulouse-Francazal airfield on 30 September 2018 in the presence of its Chairman, François d'Agay, nephew and godson of Antoine de Saint-Exupéry, his daughter Roselyne Sartre, Olivier d'Agay, the Secretary General of the Foundation, and several representatives of the Foundation.

During this air show, which gathered historical airplanes to commemorate the centenary of the creation of Latécoère-Aéropostale Airlines, François d'Agay and Colonel Cédric Gaudillière, Commander of Air Base 118 of Mont-de-Marsan, awarded to several youth from the Toulouse region a certificate of preparation for the Brevet d'Initiation Aéronautique – BIA (diploma of introduction to aeronautical studies), which turns 50 this year. This initiative recognises the commitment of youth and encourages them to pursue education in the fields of aeronautics and space, within the framework of the unique partnership between the Antoine de Saint-Exupéry Youth Foundation and the French Air Force.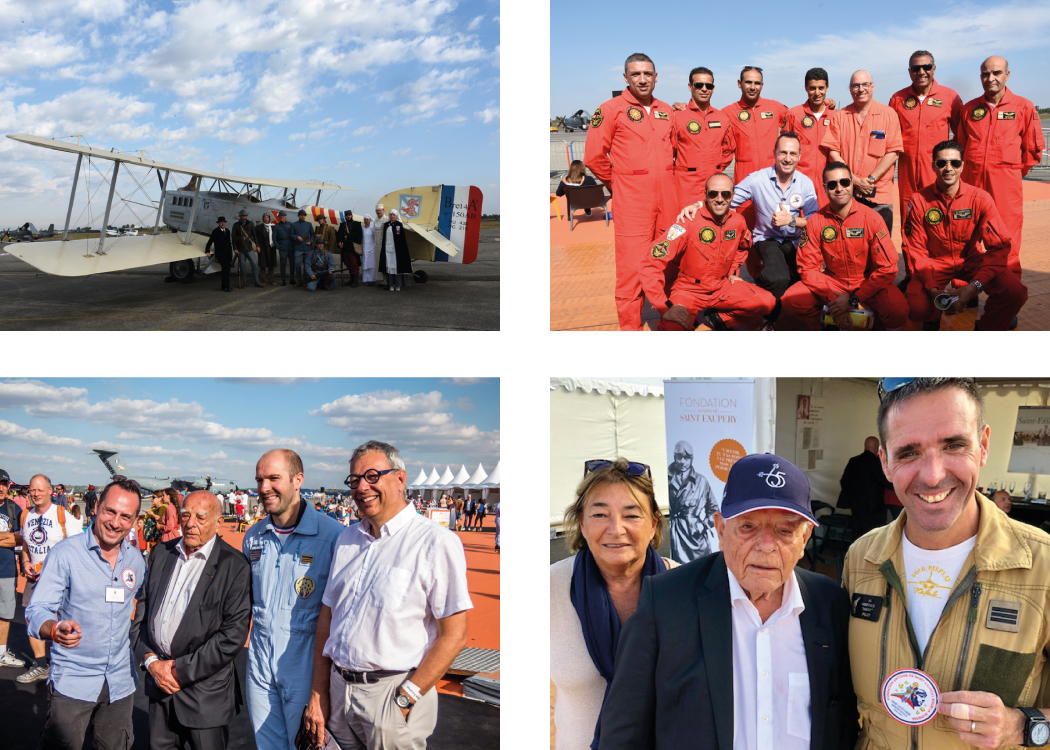 This event also allowed the Foundation's representatives to welcome their partners from Toulouse, such as the French Air Force, the Space City of Toulouse and the Institute of Technological Research of Toulouse (IRT B-612), Airbus, the association "Les Ponts du Cœur", in the company of the pilots of the Patrouille de France – PAF (precision aerobatic demonstration unit of the French Air Force) and those of the Moroccan Air Force.

For more information :
http://www.meeting.desetoilesetdesailes.com/
Crédit photo : ©Pascal Prieur – DEDA 2018):

01 – Representatives of the Antoine de Saint-Exupéry Youth Foundation around its Chairman, François d'Agay, and the leader of the PAF
02 – Presentation of BIA certificates to youth by François d'Agay and Colonel Cédric Gaudillière
03 – François d'Agay congratulates the young laureates of the BIA
04 – A Breguet XIV airplane and actors wearing costumes gather to symbolise the end of WWI and the creation of Latécoère Airlines
05 – Pilots of the Moroccan Air Force with Nicolas Delsalle-Mun, Delegate General of the Antoine de Saint-Exupéry Youth Foundation
06 – Nicolas Delsalle-Mun, Delegate General of the Antoine de Saint-Exupéry Youth Foundation, François d'Agay, Major Clément Racine and Jean-Baptiste Desbois, Director of the Space City of Toulouse
07 – Roselyne Sartre, François d'Agay and flight lieutenant Jean-Guillaume Martinez, coach of the Rafale Solo Display team
08 – François d'Agay and Gilbert Casamatta, Chairman of the IRT Saint-Exupéry
09 – Representatives of the Antoine de Saint-Exupéry Youth Foundation with their partners from the Toulouse region