In December 2022, the 2nd Phnom Penh Book Fair was held and welcomed more than 100,000 people.
On this occasion, SIPAR, supported by the Antoine de Saint Exupéry Youth Foundation, exhibited its books on two stands.
The association allows young Cambodians to discover other books than school books. This work is above all pedagogical to bring to reading and especially to the international literary culture.
Antoine de Saint-Exupéry Youth Foundation (FASEJ) and Sipar : 20 years of collaboration and friendship

The story between the Little Prince and Sipar is one that is celebrating its 20th anniversary this year. A drop in the bucket compared to the age of the Little Prince, who will celebrate his 80th birthday next year (New York, 1943). A look back at a collaboration that continues to evolve each year.
In 2002, Sipar published The Little Prince in Khmer at the request of Christophe Macquet, then professor of translation at the Royal University of Phnom Penh. Selected students from the university took on the complex task of translating the book into Khmer: "We worked together as part of our courses between 2000 and 2001. It took us about two years to do this work, at a rate of three hours a week. I gave my students passages to translate at home, and then I had them come to the blackboard one by one, and we all corrected together what each one had done. I explained the French text to them in a very precise way so that they understood exactly what it meant. And since I have a good command of Khmer, I could see if there were any mistakes in their translations," says Christophe Macquet.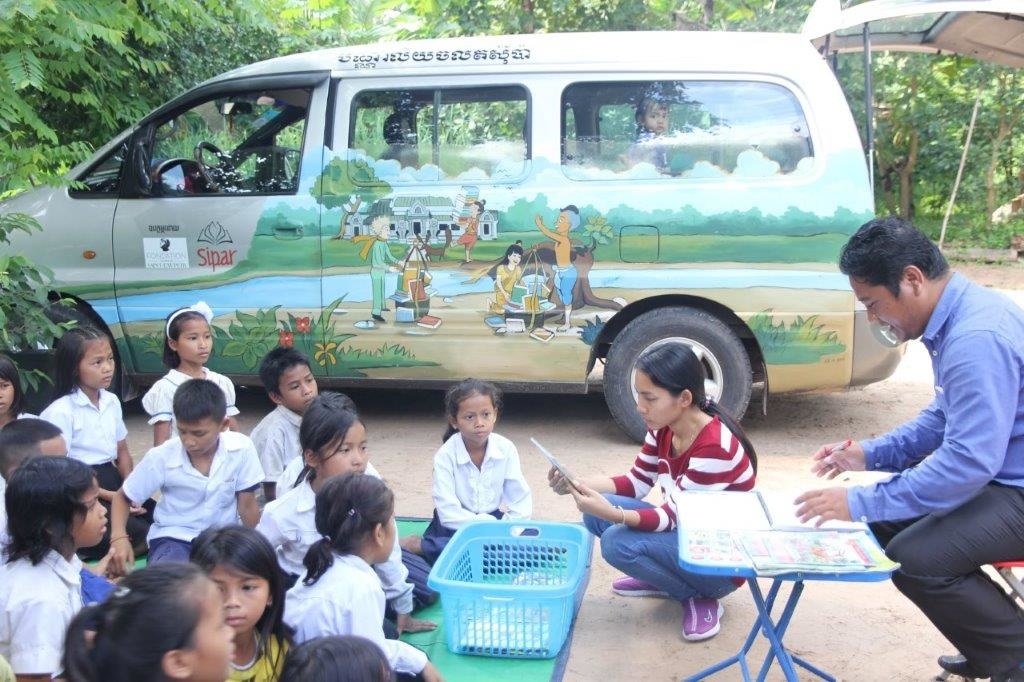 Looking for a publisher, Christophe Macquet contacted the publishing house of Sipar, immediately interested in the project. Bernadette Chaventon then contacted Olivier d'Agay, Secretary General of the FASEJ and grand nephew of the writer to negotiate the rights of author and images. An agreement was quickly reached, free of charge. Today, The Little Prince remains one of the bestsellers, distributed in schools and available in all our mobile libraries. The Little Prince in Khmer has already been published 11 times, with over 33,500 copies sold and/or distributed in our network of fixed and mobile libraries!
The first mobile library on the roads of Cambodia

It is also thanks to FASEJ that the first mobile library was set up in Sipar Park in 2002 in the suburbs of Phnom Penh. A second mobile library was set up in 2014, this time in Siem Reap in Angkor province (below, right). And since 2019, the Phnom Penh bookmobile, named Little Prince, has become a science, engineering, technology and arts laboratory (below, left)… These two mobile libraries, decorated in the colors of the Little Prince, make it possible to share the values and humanist thinking of Antoine de Saint-Exupéry, aviator, writer, cartoonist, great reporter and inventor, with underprivileged Cambodian children!
"That's how the Little Prince became a sower of books in Cambodia," says Bernadette Chaventon. Because the mobile libraries, and more generally the mobile libraries, enable young readers to discover the world of books, to escape from everyday life by immersing themselves in stories and to take their first steps on the path to knowledge. "We sow… the harvest is not ours to take, but we are confident. An ambition that Sipar shares with FASEJ, whose mission is focused on youth development through access to education. "For this to happen, one must have access to knowledge… and that means reading," says Olivier d'Agay.